Your COLORADO MARINE DEALERS agree that the best place to watch #July4th Fireworks IS FROM YOUR BOAT!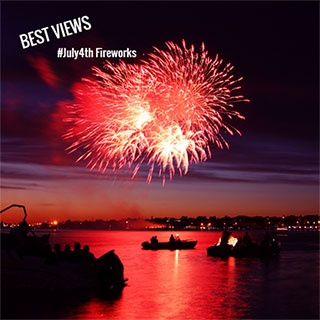 OUR TOP (4) PUBLIC FIREWORK DISPLAYS
1) Lake Pueblo
Enjoy a boating light parade that tours Lake Pueblo on the night of July 4th. Several local fireworks displays can be viewed from the water. Pueblo, Colorado
2) Dillon Reservoir
On July 4, enjoy Frisco's sponsored town event with live music from 7pm to 9pm at the Frisco Bay Marina on Dillon Reservoir. Please launch your boat at Dillon Marina. Fireworks begin at 9:30pm and are choreographed to music. Frisco, Colorado
3) Grand Lake
The Fourth of July Grand Lake Fireworks Extravaganza is a day-long celebration, which includes a parade, live music, pancake breakfasts, fishing derbies, and a grand finale of fireworks that reflect off Colorado's largest natural lake. The firework show starts at 10pm on July 4th. Grand Lake, Colorado
4) Boyd Lake
On July 4th, head out to Boyd Lake to watch multiple firework shows from Loveland and Fort Collins. Loveland's July 4th Festival at North Lake Park begins at 9:15pm. Loveland, Colorado
Also, check out Georgetown Lake
OUR TOP (4) PRIVATE FIREWORK DISPLAYS (or permit only)
1) Standley Lake
Watch the Westminster and Arvada firework displays from the serene Standley Lake. You must have a permit to view fireworks from Standley Lake. Westminster, Colorado
2) Baseline Reservoir
Homeowners and their guests of the Baseline Reservoir Group and members of the Denver Boat Club have access to the firework displays that boom over Baseline Reservoir. Lafayette, Colorado
3) 20Summaries/LakeLoveland.pdf" target="_blank">Lake Loveland
Boaters must be a homeowner to be on Lake Loveland during the firework show. You may want to find a friend that lives on Lake Loveland as the fireworks dazzle over the lake! Loveland, Colorado
4) Hidden Lake
Watch the fireworks light up the sky on Hidden Lake (on 69th and Sheridan). This lake is only accessible by homeowners. Westminster, Colorado
Boating Safety tips during Firework Displays
Your Colorado Marine Dealers Association would like to ensure your safety as you celebrate your freedom out on the water:
Travel at a lower speed (boating accidents are more likely to occur when lakes are crowded).
Discourage your passengers from swimming and be prepared for other swimmers.
Have proper lighting and make sure anchor lights are working properly.
Have proper safety gear and life jackets aboard (especially at night and during high traffic times).
Pick a designated driver (drinking-related boating incidents are more common around holidays).
Have a fire extinguisher on board just in case.
Check the lake's restrictions prior to departure as some have restricted zones for boaters to view a firework show.
Take your time when leaving (incidents are higher during the holidays).
Leave animals at home as they are sensitive to loud noises.
Enjoy your front row seats to the firework show!
Celebrate your Freedom on a Boat!